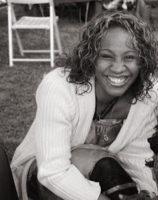 Are you searching for a voice to get your audience's attention? Not quite sure of the tone that you want? Let Mercedes be your thought partner in finding that unique sound to bring to life your next project. Her voice has been described as inviting, familiar, affable, trustworthy, believable, honest, kind, nurturing to name a few. Hey, it's as easy as a Sunday morning! The sound of her voice is easy to listen to, pleasant, warm, clear and resonant. It is downright mesmerizing! Mercedes has the ability to provide you with a range of distinctive voices. She can articulate the information you need to make the promotion of your company, brand or image unique amongst your competitors. She is capable of doing voice over recordings for all types of genres, including business presentations, phone/IVR, commercials, just to name a few. Her voice can even sound casual and real, just like the girl next door. Mercedes will make each project a one of a kind creation based on your requirements. She can work in your studio or in her own in-home studio equipped with Pro Tools to provide you with the highest quality voiceover possible.
Voice Ages:
Young Adult
Middle Age
Senior
Languages:
English
Accents:
Caribbean
Delivery Methods:
MP3 / WAV / AIFF
If Mercedes sounds like the person for you, please do not hesitate to contact her for a consultation.
Please listen below ...
Commercial Demo


Narration Demo